A history of builders

Structural work is our speciality
We operate in construction, renovation, and furnishing of villas and buildings for private indicvidual clients, architects and property developers. We have an office in Cannes, a warehouse in Le Cannet, a corporate fleet, site engines and regulary updated building equipment and materials. Our sites are managed by experienced foremen who ensure the coordination, safety and supervision of the work being undertaken.
At the heart of the company we have two engineers who work closely with several different structural design offices (BET) to establish the reinforced concrete or metal plans. We are particuarly consulted for highly technical building work for both renovation projects and new builds.
WANT TO BUILD YOUR CASTLE IN THE SKY?
It all starts with the foundations.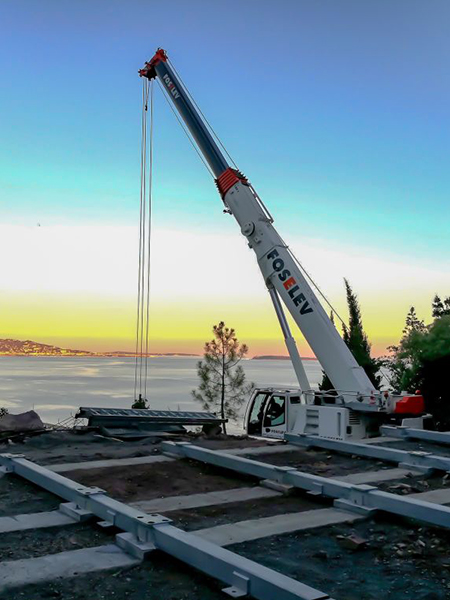 New builds

We rise to the challenge
Excavation and structural work are the first steps in any construction project. It is vital to build solid foundations, whatever the project. We have all the equipment necessary for building concrete houses and small buildings, thanks to our experience in taking on new builds, in particular luxury villas. We carry out projects based on on architectural plans and recommendations from the design office.
Our site managers and labourers are used to work requiring high-level technical expertise, often in difficult conditions . As an example, after heavy excavation work on a hillside, we assembled a villa made from modules which had been transported by boat from Dubai. The transportation and assembly required significant logistical organization and lifting material.
ALREADY FOUND YOUR CASTLE?


There's always room for improvement…
STRUCTURAL RENOVATION

Make something new out of something old
Structural work is one of the most delicate jobs whether for construction or renovation. As the structure and therefore the backbone of the building, this modelling requires a certain expertise and technical understanding. Although structural operations are most likely to be found when building from scratch, they can often also be required during a renovation. The implemantation during the latter is often more complex than for a new build and demands a different type of expertise.
We are very much used to working on existing builds and are therefore often requested to restore old buildings or to undertake structural work for villas.
In the event of a significant renovation, demolition can be a key step.
The installation of a security perimeter is of utmost importance, particularly in densley populated areas, such as town centres.
One of the challenges we are confronted with daily during a structural renovation is the supply and implementation of metal beams (IPN, HEA etc.) that weigh several hundred kilos and measure several metres in length.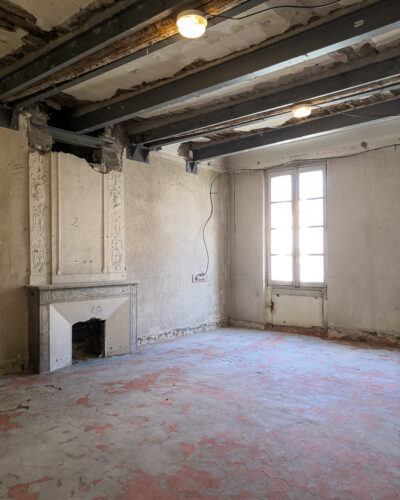 Structural renovation

Our know-how